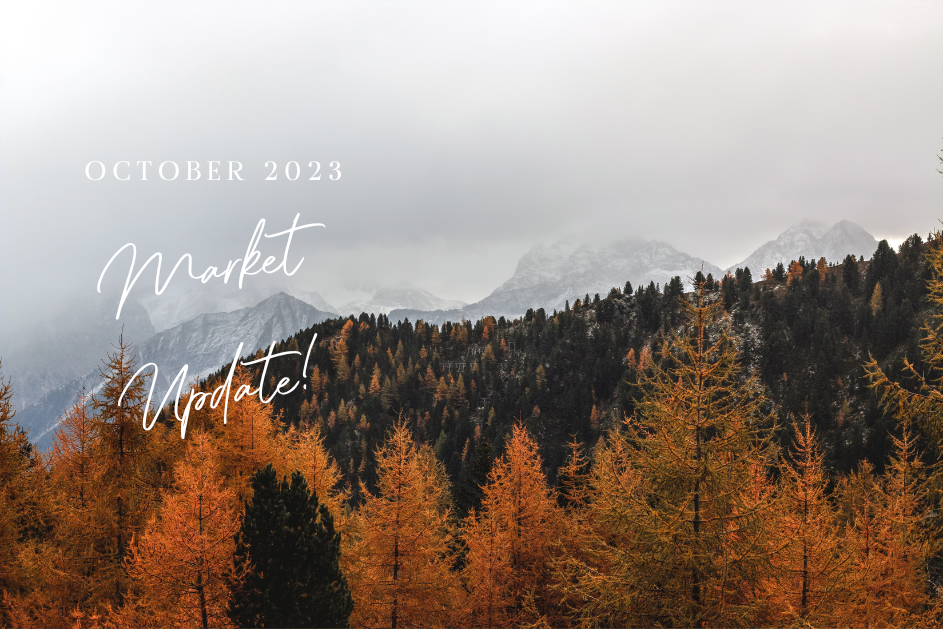 Fall is here, and it's not just the season of crisp mornings and fireside coffee that makes it our favorite; it's also the season for a vibrant real estate market. For sellers, it's the perfect time to create a cozy atmosphere, with the warmth of a fireplace and perhaps a batch of cookies to welcome potential buyers. Additionally, the changing foliage and lush green grass add to the curb appeal. For buyers, it's an ideal season to seek great deals with reduced competition especially this year as we officially are in a Buyer's Market. 
This month, we are beginning to observe the effects of higher interest rates and the autumn season. Let's delve deeper into the details:
Active Listings:
As expected, listings have been on an upward trend over the past year, increasing by 20%. This month, we've seen a modest uptick from 342 to 357 listings, marking a 4.39% difference. However, it's worth noting that even with this increase, the number of listings in the 300s is still on the lower side compared to a typical market. A significant factor influencing this trend has been the reluctance of some homeowners to list their properties due to the highest mortgage rates in over a decade. The resulting scarcity of available properties earlier in the year kept inventory levels low, leading to price increases throughout the spring and summer, and this month is no exception.
Prices:
Sold prices in Sunshine Coast, BC have seen fluctuations over the past year, but the overall trend shows a 4.3% decrease compared to this time last year. This month, prices have experienced a slight uptick, rising from $894,200 to $903,500, marking a 1.04% increase. Interestingly, this is a notable 17% higher than the average price of homes in Canada, which stands at $750,100 for August 2023.
Days on Market:
While prices have risen this month, the time it takes to sell a property may be slightly longer. The average days on the market for Sunshine Coast properties increased from 41 days to 50, indicating a 21.95% rise. However, it's essential to note that this is still 20.6% faster than it took to sell properties at this time last year. In today's market, for sellers to meet their goals, it's crucial to price their homes competitively and ensure they are in optimal condition for showings.
Solds:
The number of sold properties on the Sunshine Coast decreased significantly this month, with 25 sales compared to 41 last month. This reflects a 40% decline and is 30.6% less compared to the same period last year. This decrease is unsurprising given the impact of high-interest rates and limited available inventory.
As we look ahead, we anticipate that listings will remain relatively stable as we transition into the winter season. While many sellers prefer to list in the spring, fall and winter can offer unique opportunities due to reduced competition. To succeed in this market, it's crucial to price your property competitively and ensure it shows well.
Market Summary: 
Detached home benchmark: $903,500 (4.3% decrease YTD)
Average Days on Market: 50 (20.6% decrease YTD)
Active listings: 357 (20.6% increase YTD)
Homes sold: 25 (30.6% decrease YTD)
Attached home benchmark: $659,850
Average Days on Market: 32
Active listings: 57
Homes sold: 9