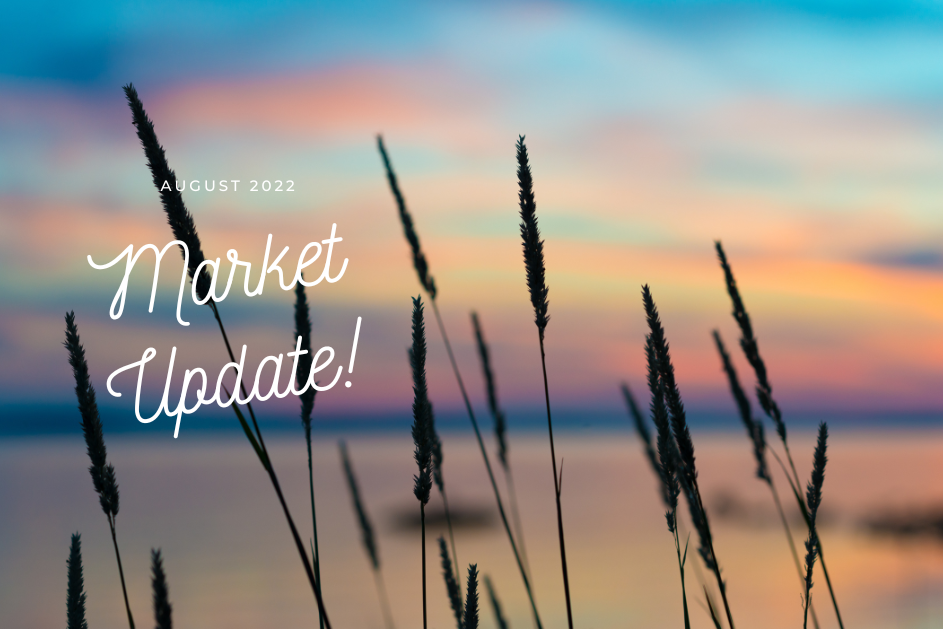 The Market here on the Sunshine Coast BC has been no doubt adjusting into something we haven't been used to these past few years, this past month particularly with everyone squeezing in their last summer activities before going back to school and regular routines. Although the market is on a downward trend, I would definitely not claim this as a 'Market Crash' by any means. We are simply going back to a typical or 'normal' market for Buyers and Sellers. I think many have forgotten or not aware that we essentially had historically low interest rates or 'Free' money if you will, along with a need for change for a lot of people since COVID-19, causing this purchasing frenzy which was very unusual and almost unheard of. 
With the interest rates directly influencing the market adjustment on the Sunshine Coast, shooting from around 1% mark to 5% in a short time period (approximately 6 months), we have recently seen the fixed insured rate actually balance out and drop almost half a percent just within a couple weeks. I do expect inventory to continue to climb this fall and rates potentially to go up with Bank of Canada but as we see this shift, I expect more buyers to take this opportunity to finally be able to purchase a home without the disorderly sale processes we've been experiencing since 2020. 
If you're looking to sell your home in the next few months, get in touch as soon as possible to ensure you are ready to hit the market fully prepared as it may take some extra time to sell your home. 
If you're looking to purchase a home in the next few months, with the interest rates backing down slightly, lock in your interest rates and get in touch to learn your next steps in being able to buy without having to fight your way to an accepted offer. 
Here is a deeper look and summary to the Market on the Sunshine Coast:  
Active listings on the Sunshine Coast have been on the up rise (finally!) since the increase of lending interest rates. Seller's are capitalizing on the market and doing so while the weather is nice and properties look their best. Although new listings are making a come back, we are still at an all-time low with under 300 properties for sale on the Sunshine Coast from Gibsons to Pender Harbour. 

Sunshine Coast, BC Real Estate Market Prices have been softening these past couple of months as expected with the rise of interest rates and in turn, more listings becoming available. The prices have been going down at the same rate they were going up since the start of 2020 til now; 1-2% per month. This month was a bit more of a drop but definitely still in the realm. As the interest rates balance out, the prices play catch up as the change is always a heavy shift, taking its time to be at a more equal with the rates. With that, I do expect prices to continue the downward trend while catching up and depending on future announcements, balancing out in Fall. 
Selling your home on the Sunshine Coast, BC will take a bit longer however, remember days on the market is still within a very reasonable time frame of a couple months, we have just been used to just a couple of days without any work in the past. Selling your home will take a bit of preparation but with that, correct pricing and the right agent on your side, you shouldn't have any problem selling in a timely manner and for top dollar. 
Sunshine Coast Solds have dropped as expected with summer activities in full swing and of course interest rates at a much higher (but more normal!) rate. Fall brings out more listings but also more buyers. It is inevitable that some buyers may not qualify for as much so need to wait for prices to adjust and save more in the meantime however, remaining buyers can purchase with more buying power on their side as opposed to the Sellers Market we were in and will take advantage of that; likely finding that perfect property. I expect solds to decrease the next month or so but balance out (or even increase) once again after that. 
Detached home benchmark is $997,000 (20% increase YTD)
Average Days on Market is 34 (88% increase YTD)
Active listings is 275 (9.56% increase YTD)
Homes sold is 34 (32% decrease YTD)
Attached home benchmark is $712,200
Average Days on Market is 12
Active listings is 35
Homes sold is 7
If you're looking to Buyer and/or Sell on the Sunshine Coast contact me anytime for a FREE market evaluation and consultation to set up a detailed game plan for you to get you the home you want and top dollar for your current one!
Let's Connect