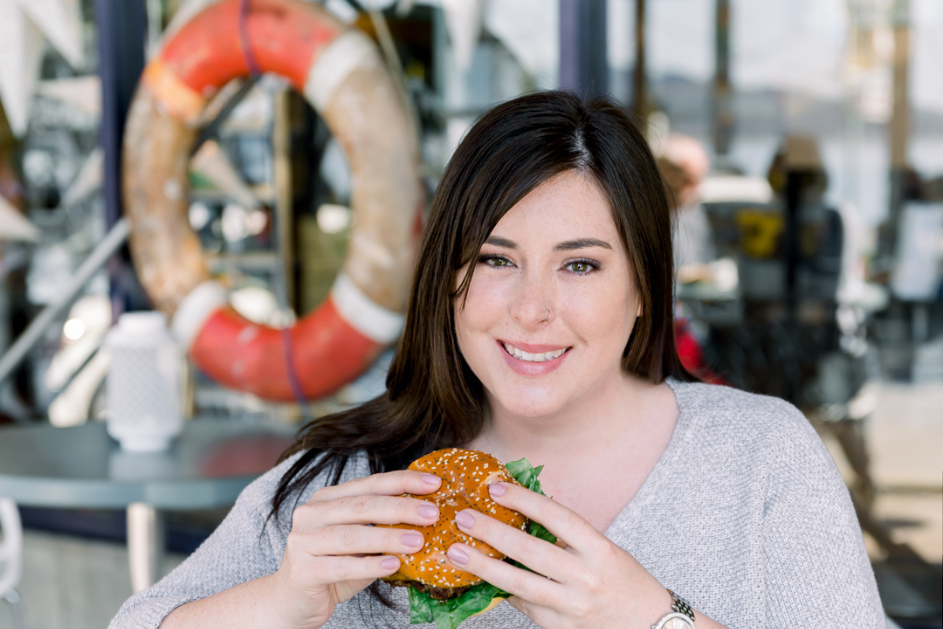 Cut off from mainland BC's traffic by a short ferry ride gives the Sunshine Coast a quaint island vibe (although locals are quick to tell you it's NOT an island). Our laid-back nature does not equate to a lack of quality, especially when it comes to food and drink. In fact, the best way to experience the Sunshine Coast is to enjoy a delicious snack and cocktail on a patio overlooking a stunning West Coast sunset.
Fancy a drink? Here are a few of my favourite patios to enjoy with friends and family…
Tucked away on the lesser-known Porpoise Bay side of Sechelt,
The Lighthouse Pub
is a favourite local haunt. Originally built for Expo '86, the pub now boasts the largest patio on the Sunshine Coast. It's the best place to take in the calm waters of the marina, relax with friends or watch the game with a beer and their famous chicken wings.
Don't let its relaxed vibe fool you, though. The food is incredible! Watch the seaplanes come and go as you feast on mariner mussels, deckhand prawns, and sweet potato planks to share among friends.
Visiting with little ones?
The Buccaneers Restaurant
next door has a kid-friendly menu and the same great views.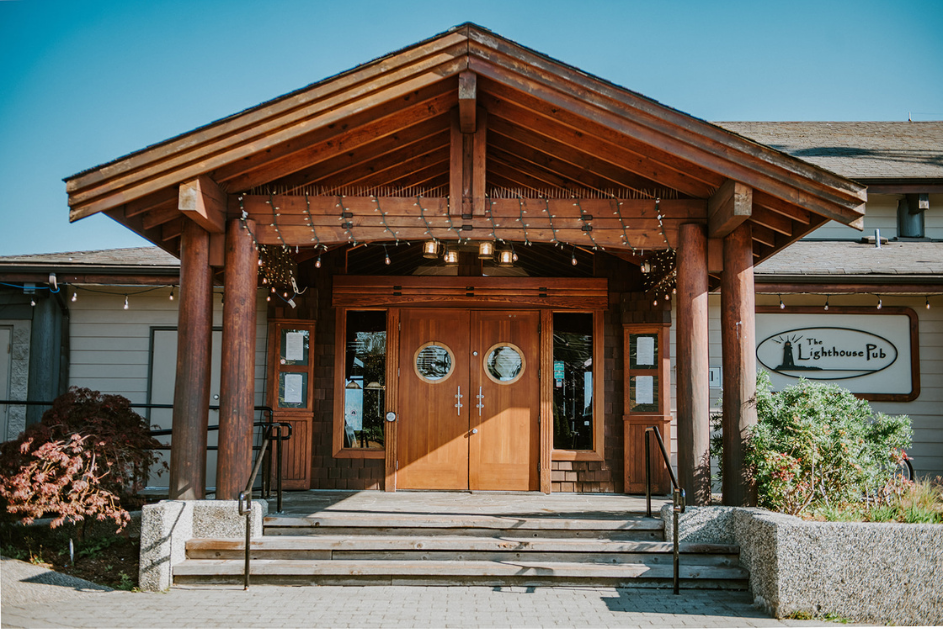 Brickers Cider, West Sechelt
Judging by its appearance on tap lists throughout BC, it's hard to believe that homegrown Brickers Cider is only five years old! Founded in 2017, the cidery is an homage to the family matriarch, Anne, whose orchard sits a mere 500m away from the taproom. Insistent that the family "do something with her apples," the cider bears her maiden name to carry on her legacy.
Located just west of Sechelt, Brickers has a variety of crisp, fun ciders with seasonal varieties coming out every 2-3 weeks, or choose from local beer and kombucha on tap. With three acres of apple trees, a tap room, a huge garden patio, tent and deck for keeping dry, a kitchen (
The Shed
) selling excellent hot food, and a kid and dog-friendly venue, there are many reasons to visit!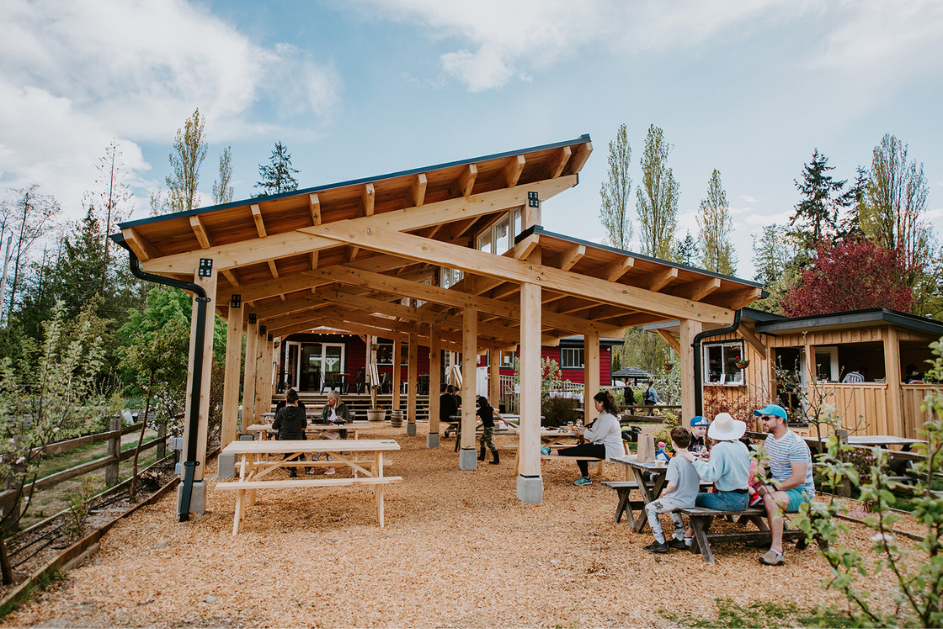 The Wobbly Canoe, Davis Bay
If you're travelling from the mainland, make sure to skip the Pirate Pack aboard BC Ferries and make
The Wobbly Canoe
your first stop for a snack and libation. Located along the Sunshine Coast Highway in picturesque Davis Bay, it's the perfect spot to slow things down and get into the coastal vibe with locally-sourced food, craft beer and quality conversation.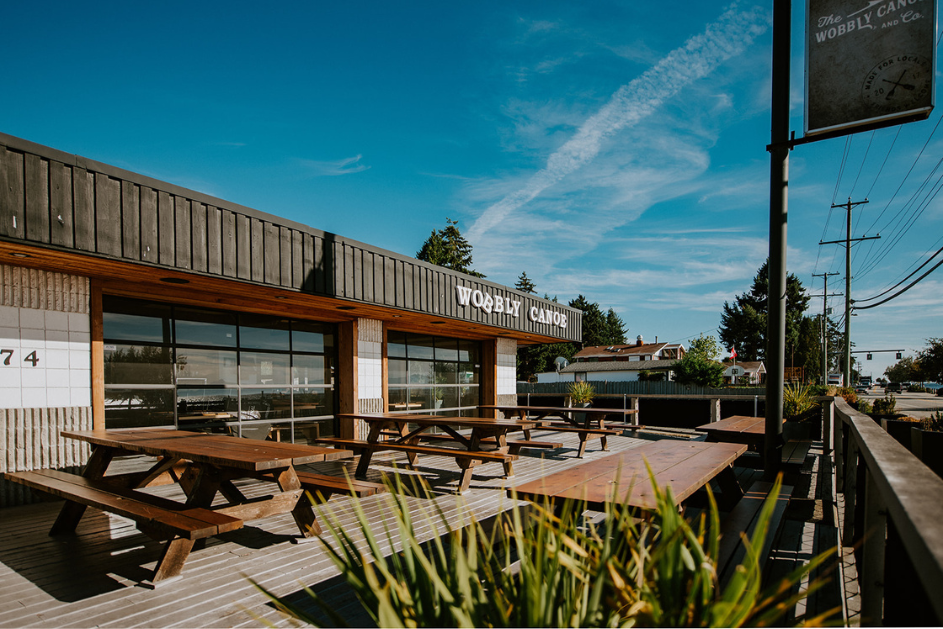 Gourmet Girl, Davis Bay
If you're not a fan of great food, inclusive dining, local artisans and fabulous views, then I suggest you keep on driving! If this sounds appealing, then you
must
stop at
Gourmet Girl
in Davis Bay. A relative newcomer to the coast,
Gourmet Girl
boasts a menu stacked with classic dishes and unpretentious food that appeals to meat eaters, vegetarians, vegans and those needing gluten-free options.
Need an example? Order your fish and chips regular, gluten-free, vegan, or vegan gluten-free!
When it's sunny, grab your lunch and enjoy it out on their patio overlooking the Pacific Ocean, or take it to go and hop across the road to the beach! For those rare gloomy days on the coast, their heated patio will keep you cozy and after lunch, spend your time browsing their market of housewares, gifts and local art.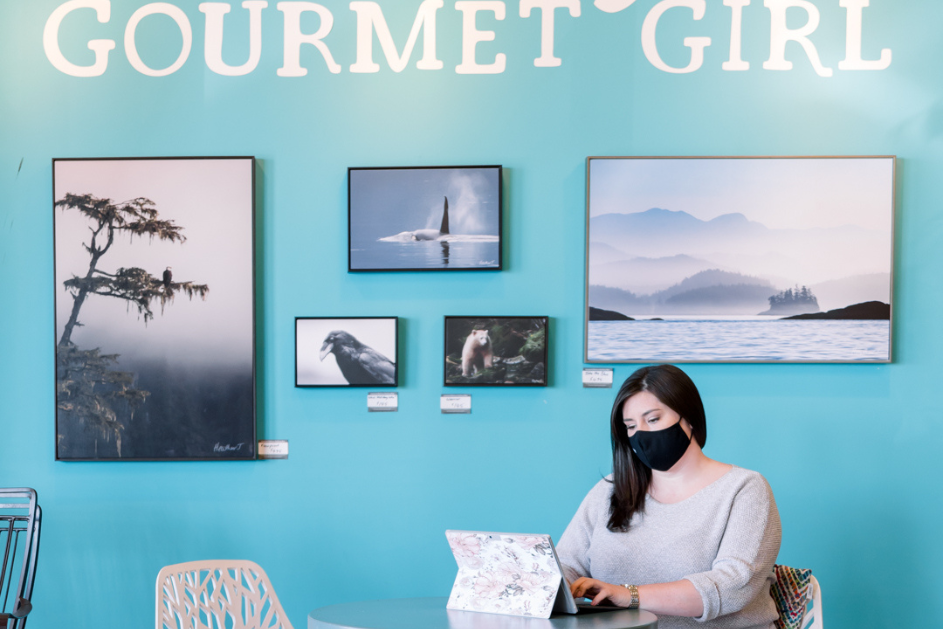 The Gumboot Cafe, Roberts Creek
Located just off the beaten path (read: one turn off the highway),
The Gumboot Cafe
is a great place to stop for breakfast before an adventure or if you have a bit of time to kill before your ferry. Committed to serving whole foods,
The Gumboot
uses local and organic ingredients whenever possible and makes as much of its menu from scratch as possible! When they need to supplement with prepared items, they only choose companies that match their high standards
for health and goodness.
You won't get any ocean views on this property, but the serene, lush forest that surrounds the patio more than makes up for it!
Persephone Brewing Company, Gibsons
Just like the Sunshine Coast is not an island, this brewery is not called "Purse-uh-phone". It's "Per-sef-uh-nee". You can thank me later!
Persephone is as much a staple of the Sunshine Coast as BC Ferries. In fact, if you're travelling from the mainland, you literally can't miss it! Named for the log salver boat in the Beachcombers (filmed in Gibsons), the award-winning brewery is located on 11 acres on the fringe of Gibsons and is home to the brewery, tasting room, market as well as the apples and hops grown for their beer!
Bring the whole family and enjoy their many delicious beers in addition to cider, kombucha and cocktails for the non-beer drinkers, fresh pretzels with homemade mustard and other yummy snacks. Their "patio" is the vast lawn surrounding the tasting room, littered with picnic tables, yard games and often live music. A favourite spot for locals and tourists alike, you'll surely meet a new friend at Persephone, eager to regale you with tales of the coast!
The Boardwalk Restaurant, Lund
We're travelling a little further for this selection, all the way to the picturesque seaside village of Lund, BC. The gateway to Desolation Sound Provincial Park, the Copeland Islands, Okeover Inlet, Savary Island, and the Sunshine Coast Trail,
The Boardwalk
is where memories begin!
Enjoy casual yet delicious seafood while seated (literally) on the water overlooking Lund Harbour. The protected cove welcomes seasonal visitors of all types, including sea lions, seals, dolphins, humpback whales, and pods of orca whales.
Their award-winning fish and chips (available gluten-free) are not to be missed, but regardless of preference or dietary restriction, you'll be able to find a locally sourced meal to satisfy even the pickiest eater.